Lean Design in Medical Clinics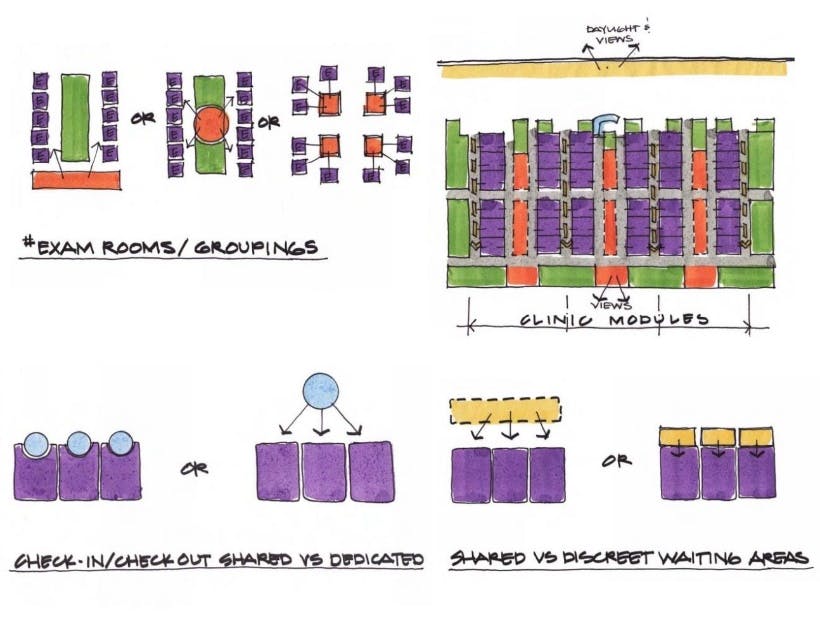 Lean design in healthcare is considered the standard design and planning process, questioning and influencing each facet of the care delivery process. Medical providers, administrators, and designers alike are fully invested, creating early charters and goals for improving the healthcare delivery process and focusing on the seven flows of healthcare. Methods for implementing Lean design have evolved from early spaghetti diagrams drawn on facility floor plans to apps that measure footsteps and motion. Institutions and
designers have developed a "kit-of-parts" for standard rooms and clinical configuration strategies to enable new facilities to be quickly designed with maximum efficiency. This enables the design team to quickly collect data and input from the steering committee and develop preliminary plans for the team to mock up, walk-though and provide feedback early in the planning process.
On-Stage/On-Stage Model
This Lean process has changed the clinical delivery method and model, that for many years has put patients and caregivers in the same space. In the on-stage/on-stage model, doctors' offices are separate from the patient rooms and staff work areas, requiring frequent treks back and forth from office to patient exams. Usually, one or two physicians work in a particular area with exam rooms forming around smaller core areas. In this model, patients and caregivers interact in and out of the patient rooms with a mix of doctors, nurses, medical assistants, patients, and family mingling in public corridors. This model results in continuous noise and motion as a result of the inherent interactions that occur outside of the exam room.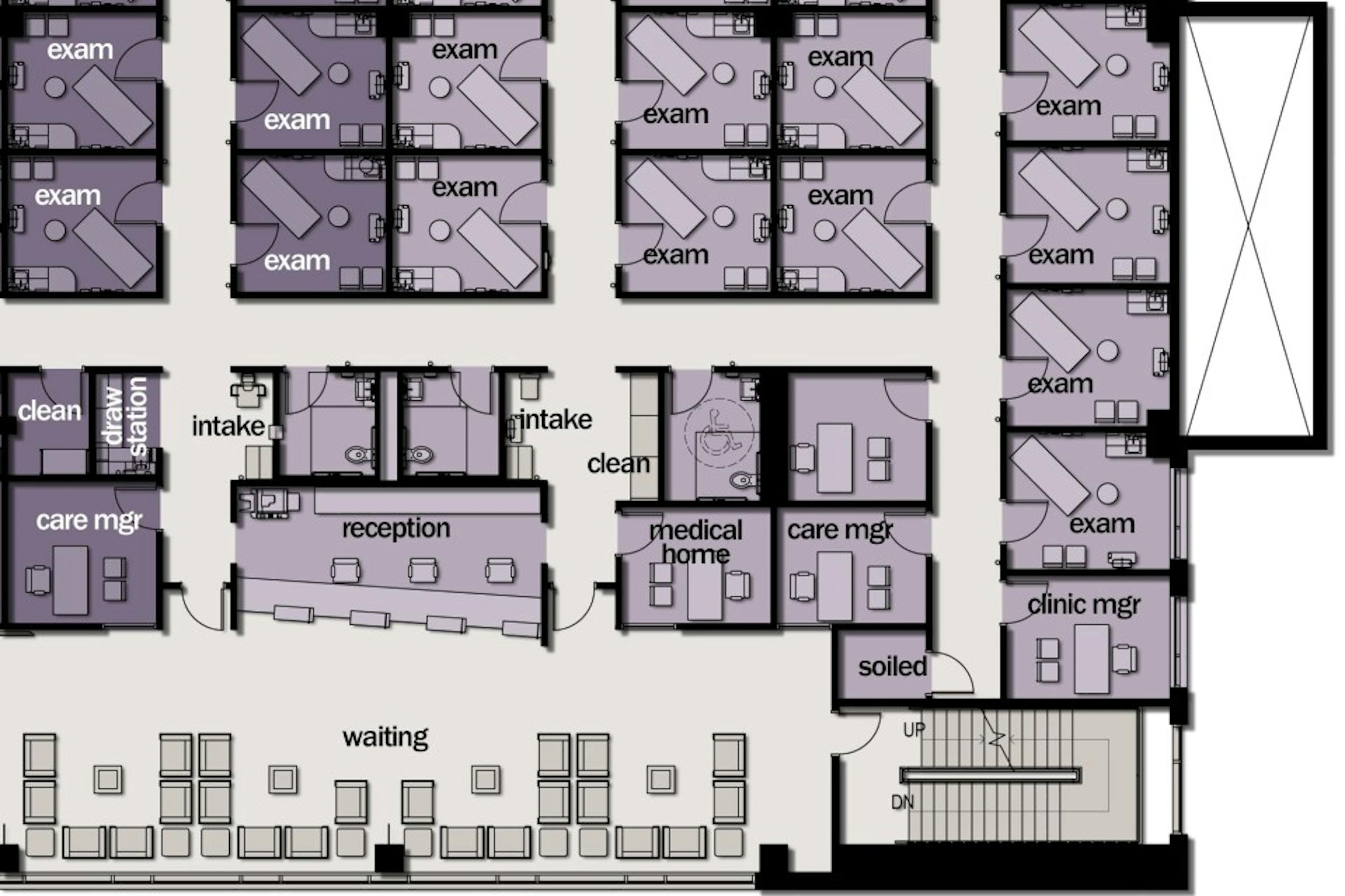 On-Stage/Off-Stage Model
A more current design strategy for multi-specialty clinics, born out of a series of Lean processes, has enhanced the care delivery process, and out-of-patient room workflow by separating the patient access from the caregiver areas in an on-stage/off-stage model. In this model, exam rooms have two doors, one from a dedicated patient corridor and the other from a care team work area. Additionally, this care teamwork area includes staff seats for nurses, medical assistants, doctors, and specialty support staff in one location. This Lean model has improved the care delivery process for the patients as well as the providers and has even resulted in quicker "throughput" of patients.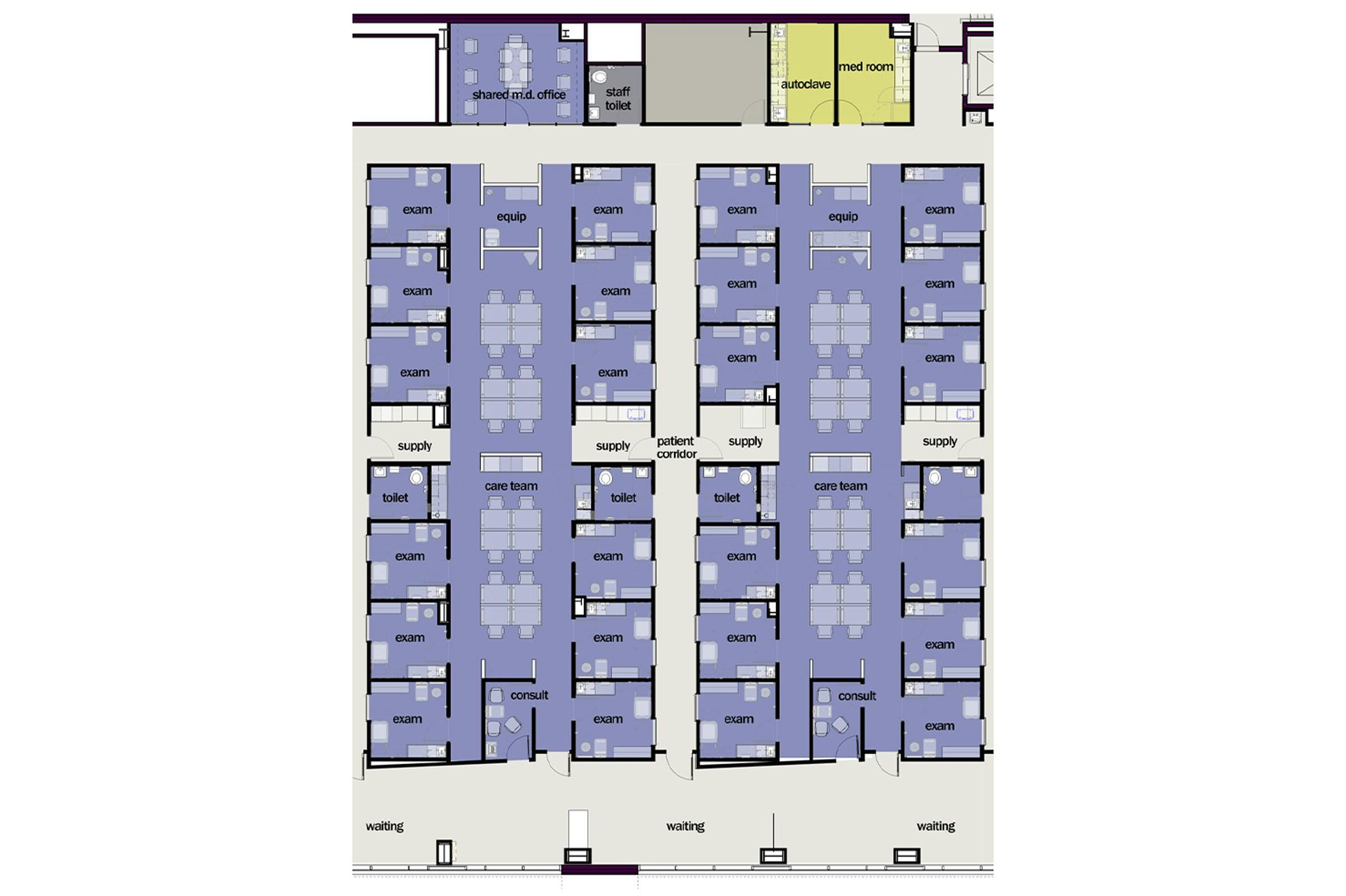 Unintended Consequences and Potential Solutions
Sometimes unintended consequences occur, even in the most thoughtfully designed facilities. A recent unintended consequence of the on-stage/off-stage model we have been implementing is the lack of ambient noise outside of the patient room. Separating patients from caregivers reduces informal interactions in the corridors, thus reducing background noise. This quiet environment is beneficial for staff, but can also be clearly audible as a patient walks down the corridor to their room and can hear conversations occurring in other patient rooms. This perceived lack of privacy has caused some patients to feel anxious about conversations with their caregivers.
Sound mitigation measures that have been explored and implemented to reduce the unintended consequence include:
Providing additional seals around the sliding doors to patient corridors door. While effective, this makes the sliding doors very difficult to open and close, especially for patients with limited strength and/or mobility.
Installing insulated doors, which come with a significant price upgrade.
Installing white noise systems that provide ongoing background noise. Although this strategy is effective, it is counter to the efforts to reduce background noise and create a quiet and healing environment. The most effective solution to date is staff training. Having the providers use quiet "inside" voices has reduced sound transmission and improved the quality of care. This behavior change can be readily implemented and is a simple way to make ensure the Lean design efforts can be fully recognized in a new clinical environment.
The most effective solution to date is staff training.
Through project takeaways, we, as a design firm, have learned to identify shortcomings and concerns early in the planning and design process. We work primarily to identify solutions to these issues, and if there is no clear, effective solution, we then engage our clients in conversations about how to address these concerns with a focus on striking a balance between the preferred care delivery process and the resulting consequences. As we practice architecture, we are constantly striving for improvement, just as you are constantly working for improvement in your field. The Lean Design Process has enabled us to work closely with our clients to seek better designs that enable improved processes, and at the same time, the Lean Design Process reminds us that there is always an opportunity for improvement.
Words By:
Jeff Pinegar, AIA